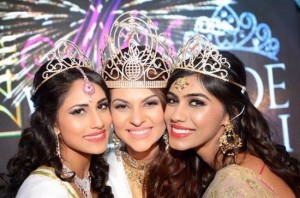 Stephanie Lohale
Miss India Worldwide 2015
Pictures by:
Raj Suri – Australia
Bhikhu Bhula – New Zealand
Stephanie Lohale of Oman crowned Miss India Worldwide 2015. The pageant, which is in its 24th year, was held on September 5, 2015 at the LaliT Hotel in Mumbai, India. Apeksha Porwal of India and Shivani Govender of South Africa were crowned first runner-up and second runner-up respectively. Contestants from 33 different countries took part in what has been acclaimed "the most glamorous Indian pageant in the world". Miss India Worldwide is organized by New York based IFC, headed by Chairman/Founder, Dharmatma Saran.
Stephanie was crowned by outgoing queen, Monica Gill of the USA.
Stephanie, 19, is currently pursuing a Bachelor's Degree in Fashion Design, at Heriot Watt University, Dubai and is currently an aspiring fashion publisher.