Making Beauty to Help the Needy
by Prakash M. Swamy (News-India Times)
Dharmatma Saran, chairman and founder of the New York based India Festival Committee that organizes the trail blazing Miss India Worldwide, has used the title to raise funds for the poor and the needy. He made the beauty work for a good cause. Saran has also broken several conventional myths about beauty pageants. Myth Number One: Beautiful girls will look good only when they appear in skimpy clothes. No said Saran. His participants glide through the ramp wearing glit­tering saris and other national garb. Myth Number Two: Beauty pageants are a mere status symbol and except for the organizer and title winner, there are no real beneficiaries. Wrong, said Saran. He uses his beauty queens to raise funds for good causes. The India Festival Committee, started in 1974 in a most humble way, is cel­ebrating its silver jubilee this year and the orga­nization can look back with pride at its multifac­eted achievements. Saran is a pioneer in more ways than one. He brought out the hidden beau­ties of Indian origin to the International arena. To date, Miss India Worldwide is the only ethnic beauty pageant of international repute in tan­dem with the dream international titles Miss World and Miss Universe.
Essentially, Saran is a dreamer, but not a day dreamer. With a burning desire to provide un­adulterated entertainment to Indians settled here, he along with friends started India Festival Com­mittee 25 years ago to conduct cultural shows on the sprawling lawns of Central Park with in­gredients such as bhangra, garba, music, and fashion shows.
This became quite a hit and soon the show attracted entertainment starved Indians in thou­sands making it the most popular show for desis. Saran, a shrewd businessman good at reading the pulse of the audience, dumped other usual and insipid shows to stage a novel Miss India New York in 1980 to identify beauty queens among Indians living in the Big Apple. Seeing the demand, he launched beauty contests in other states with the finalists competing for the Miss india USA title.
With progress and prosperity came the change in venue. The show was shifted from base­ments and parks to prestigious Sheratons and Marriots drawing more and more crowds.
A not satisfied and never say die Saran decided to expand it beyond the yonder blue. In 1990, he started thinking oil the lines of Narasimha Rao­globally, he launched Miss India Worldwide pageants to identify and honor beauties of Indian origin the world over and the show graduated to become the top most international Indian pageant on the earth. From then on. Saran never looked back and success and fame came in geometric proportions. Except Femina India, no other pageants were held in India worth the name and ultimately, Saran joined hands with the Times of India group's Femina that runs the beauty pageants in India. Saran is the only non resident Indian, till date, to be invited to judge the Femina Miss India winners. Now over 15 countries choose beautiful girls of Indian origin in their respective countries such as Guyana, Trinidad, Surinarne, Singapore, Malaysia, Thailand, South Africa, Zambia and Nepal besides US and Canada.
This year's silver jubilee celebration will be held at the prestigious Union County Arts Center in Rahway, New Jersey on Nov. 22 in which alluring girls from 25 countries will compete for the pres­tigious international title. The organizers have planned to invite leading politicians, film stars, captains of industry other VIPs to the show.
---
"This year we have been successful in getting per­mission to conduct pageants in Dubai and Oman, the one and only show of the kind permitted so far in these countries," Saran said with justifiable pride.
"We will never permit vulgarity and bikini wearing in our competitions… we don't believe in the axiom shorter the dress, greater will be the chances of winning the prize. We are very conservative in that. We only showcase the best of Indian culture and not the skin. We strongly oppose exhibiting women in a cheap manner on the dais," Saran said adding that his shows are always meant for the entire family.
Support came from most unexpected quarters. Noted actress, social worker, feminist and MP Shabana Azmi, who is known to blast all beauty pageants, endorsed Saran's show as noble as it helped funds for the deserving children.
Saran has become an international figure in beauty contests and he has been invited to such pageants held the world over. Recently he and his wife Neelam Saran are being invited to South Africa. Mauritius and Trinidad. "I always pursue my dreams to the logical end. I want to increase the number of countries participating in the global contest to 40 in the next five years as there are Indians everywhere," Saran says. Saran has been successful in the combining beauty and char­ity. Bela Bajaria, one of his highly successful beauty queens from Los Angeles, has collected $35,000 each year for the Hand and Heart for the Handicapped for many years to help disabled children in US and India. Another successful Miss India Hong Kong collected $100,000 in a charity ball to help the helpless people. Saran said the success of the venture were not his own creations but ateam work of supporters who lend a helping hand in times of need. "I don't know how I would have fared but for the unstinted support of Air India. Also my friends former News India editor John Perry; President of Jackson Heights Merchants Association V.N. Prakash; TV Asia Chairman FIR. Shah~ Bombay Broadcasting's Gin Raj; and all the successive Indian Consuls General have stood with me." he recalls with gratitude.
Saran is blessed with an understanding wife Neelam. She has been a source of great strength and support to him from the day one. Honestly, will any wife, without an iota of jealousy permit her husband to be in the company of charming girls? Rare. But Neelam not only understands him, but is also part of his ventures. And of course, his two daughters, Neema and Ankeeta have always been of great support and as­sistance. Saran is not one who rests in the laurels. After the success, he has concrete ideas to launch Miss Asia Worldwide for enchanting girls of Asian origin. The first such show of rare magnitude is to be held next year during the Asian Heritage month of May at the Trump Taj Mahal at Atlantic City. "Based on our experience and background, we felt that we could organize such a show in a much better fashion. We are overwhelmed with the response," he said.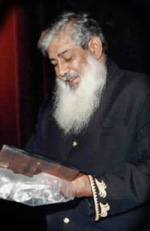 Not Just A Beauty Pageant
by Farook Khan, Chairman
Miss India-South Africa Corporation
The Miss India-Worldwide Pageant has developed further into a grandiose platform of unity through culture over the few short years it has been in existence.
It has become an event which is boundless and this has become a reality due to the foresight and vision of dedicated men and women who came to the United States of America to start a new life and to carry all that India has to and will continue to offer.
At one time, the pageant was regarded as a beauty contest, it no longer suffers from this narrow reputation. It has fledged out to be a mass international movement which honors the perform­ing arts, develops finesse as a way of life and puts into communities a sense of compassion.
Chairman Dharmatma Saran and his dedicated band of men and women have inspired people around the world to participate in a truly remarkable spectacle that enjoys the status of a truly bound­less Festival of good.
They have people as far East as Hong Kong and as far south as South Africa and furthermore knitted the western world's Indian community into a hard working group of people who have consid­erable expertise whether it be the arts, the sciences, economics, or lifestyle.
What brings these contestants together? A network which aims to honor achievement, to celebrate our culture in many ways, among them, the ability to meet people, make friends, to respect and be respected, to continually strive to improve standards, and to live a life as close to the laws of nature.
India has risen to greatness through various achievements notched up by her many children in the motherland and outside. The common denominator which unites us all is the ability to recognize and cherish decency.
It is also on this platform that the India Festival Committee was established twenty-five years ago and it is on this foundation on which we must continue to build hallmarks which will keep us as a united people.
The Miss India Worldwide is such a hallmark, it is not just a beauty pageant.
It is a celebration for all that we stand for–as a people.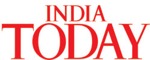 **Taken from the December 13, 1999 India Today International**
Beautiful Betis
By LAVINA MELWANI
THERE'S NO BEAUTY LIKE Indian beauty, and no desh like apna desh. These seemed to be the sentiments of the 1000 – strong audience at the Ninth Annual Miss lndia Worldwide Pageant held on November 27 at the Union County Arts Center in Rahway. New Jersey.
Billed as the Pageant of the Millennium by the organisers, the event featured young women, aged 17 to 27, from 20 nations including the UK, South Africa, UAE, Switzerland, Bel­gium, Hong Kong and several Caribbean countries. Most of them were born abroad and had not even been to India. Yet what was most im­portant that evening was the Indian part of their hyphenated identities.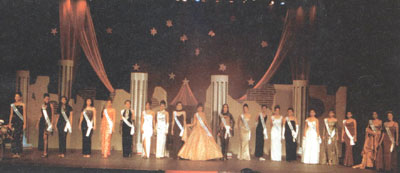 Unlike other beauty pageants this one had a cheerfully NRI flavour to it: many of the contestants were just over 5 feet tall. their vital statistics were not announced, and no swimsuits were in sight. The emphasis was on poise, talent and costumes a formula that has served the pageant well over the years.
We've simply called it a pageant because our contestants are supposed to he intelligent and talented besides being beautiful, says Dharmatma Saran, whose India Festival Committee organises the event. The committee, which celebrates its 25th anniversary this year, initiated the first pageant Miss India New York in 1974. Over the years the pageant has been fine-tuned. Next year's event will he held in Tampa, Florida. Also in the works is the first ever Miss Asia Worldwide pageant in 2000.
This year's event was a five-hour marathon consisting of the contes­tants in Indian dress, evening dress, and a talent segment. The appearances were interspersed with the rendering of popular Hindi film songs by Sourabh Jain, a fashion show and dance num­bers. The hosts for the evening were Sbivendra Kundra, newscaster from India, and former Miss India Worldwides, Gita Bali and Vidya Shekhar.
The fashion show highlighted the collection of designer Dinesh Cheddha, A bevy of models led by Mehr Bhasin, Rakshanda Khan, Anupama Verma and Nethra Raghuraman showed dozens of ensembles in a spectrum of fabrics and designs. Bleary-eyed members of the audience kept running to the lobby for a caffeine fix. Only hot samosas and chutney were missing.
The event was very much a community happening with several dance numbers presented by Apra Bhandari, a former Miss India New York; classi­cal dancer Sonalee Vyas and her group; and local young women studying dance at Kalanjali School of Dance and East-West School of Dance.
Many of these girls do not know how to speak Hindi but are probably more into Indian culture and tradition than the girls in India, says Saran.
What came through at the pageant once again was the NRI fixation on Bollywood. In the talent seg­ment., most of the participants danced to popular hits from Taal and Hum Dil De Chuke Sanam. Yet the winner was Miss Hong Kong who presented an ac­complished Bharatanatyam piece.
Most of these women have set their sights on professions like medicine, public relations and the law. The con­test gave them a chance to take a de­tour and explore their Indian identities through dress and dance.
Perhaps it also opens up doors to new careers. Melissa Bhagat, last year's Miss India Worldwide from Canada is now.planning to embark on a career in politics or diplomacy and has justs ap­peared for the Canadian Foreign Ser­vice Competition. She observes: I think the pageant completely changed my life because it enabled me to go be­yond my own dimensions as an Indo- Canadian and experience the international NR1 community.
The contestants from Canada, the US and UAE were all popular but the hot favourite was Aarti Chabria from India. After all, who could be more Indian than Miss India herself? The audi­ence anointed Chabria long before the judges, with a frenzy of clapping and chants of Miss India.
This vibrant 17-year-old. from Mumbai scored with her eloquent namaste. ln the western dress segment she wore a concoction of see-through lace pants and top, proving that bharatiya naris are as with it'' as any westerner, So while Chabria wore the Miss India Worldwide crown, Sharan Gill from the US and Anupma Anand from Hong Kong were declared first and second runners-up respectively.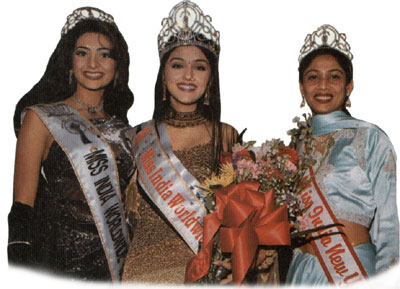 Chabria may well be headed the Aishwarya Rai and Sushmita Sen way, for she plans to be an actress. But she won't find the going tough either, having modeled in over 80 commercials since the age of three. Says Chabria: That 13-year experience has given me the confidence and will power to say, I want to be an actress!' And her feelings on being crowned the most beautiful woman in the Indian diaspora? It's mind blowing. I'm just happy I've won for my motherland, she cooed. In fact, motherland, culture and India were the words repeatedly invoked by most con­testants. Clearly, this pageant was also about roots and identity.