Monica Gill
Miss India Worldwide 2014
Pictures by:
Rohan Gangotra – Mumbai, India
Raj Suri – Sydney, Australia
M.N.Akhtar – New York, USA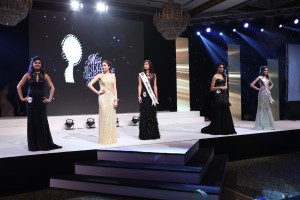 The Twenty Third Miss India Worldwide was held on June 20, 2014, at the Al Raha Beach Resort in Abu Dhabi, United Arab Emirates. Monica Gill of USA was crowned Miss India Worldwide 2014 by outgoing queen Nehal Bhogaita. The first runner-up was Cynferth Turrian of Switzerland and the second runner-up was Priya D'Silva of Bahrain. Suhani Gandhi of United Kingdom and Angie Shamdasani of Spain were the other two top five finalist. The other contestants to make it to the top ten were: Noopoor Akruwala of Grenada, Janine Habib of Netherlands, Anugya Sharma of India, Niharika Pathak of Oman and Sanna Monga of UAE.
Miss India Worldwide was organized by New York based IFC headed by Dharmatma Saran in association with Emirates Vision Events of UAE headed by John Matthew. The celebrity panel of judges included cricketeer Harbajan Singh, Bollywood actors Neha Dhupia, Richa Chadda, Nikhil Dwivedi, Fashion Designer Rohit Verma, Astrologer Sundeep Koachar, RJ Meghana Fareed and Chairman and Founder of Miss India Worldwide, Dharmatma Saran.
Miss India Worldwide is the largest and the only international Indian pageant with affiliates in over 40 countries. On June 15, contestants from 40 countries arrived in Dubai with the hope of winning the Miss India Worldwide title. During their week of stay, they enjoyed site seeing the many beautiful attractions of Dubai, including the Desert Safari with traditional food and performances. They also spent the week attending workshops and being interviewed by local media.This year was the largest representation with 40 countries participating. "We are very thrilled that we had such a large representation of countries this year and look forward to expanding in the years to come." said Dharmatma Saran.
With such a large representation, there was a wonderful variety of talent performances. The talent ranged from classical dancing, pole fitness dancing, drawing, musical instruments, theatrical performances, and signing. What really stood out was how each contestant maintained and represented their Indian culture even after living outside of India. "Miss India Worldwide provides a great platform to Indian women around the world. We really enjoyed hosting Miss India Worldwide for the second time in UAE and look forward to hosting the pageant again in the future." said John Matthew of Emirates Vision Events.
The sub-contest winners were: Miss Talented – Noopoor Akruwala of Grenada, Miss Beautiful Smile – Joanna Soudine-Palton of French Guiana, Miss Catwalk – Sonia Singh of Norway, Miss Photogenic – Janine Habib of Netherlands, Miss Congeniality – Yaddisha Dulangi Peterson of Sri Lanka, Miss Beautiful Hair – Jessica Sonejee, Miss Beautiful Skin – Amreeta Goundar of New Zealand, Miss Bollywood Diva – Shima Singh Mann of Sweden, Miss Beautiful Face – Rachel Bianca Salema of Kuwait, Miss Beautiful Figure – Angie Shamdasani of Spain, Miss Viewer's Choice – Priya D'Silva of Bahrain, City 1016 Listener's Choice – Ritu Shah of Dominca, Miss Chairman's Professional – Harpreet Kaur of Belgium.
There was a special performance by outgoing queen Nehal Bhogaita who made Miss India Worldwide history last year by being the first hearing impaired contestant to win the title. Using the vibration of the music as a guide, Nehal stunned the audience with a dance to a medley of songs and received a standing ovation.
Monica,age 24, is a graduate of Amherst College, Boston, with a major in Biology. She has been working as a Clinical Research Associate at a Biotech Pharmaceutical company and a journalist for a local newspaper. She has recently moved to Mumbai to study acting.