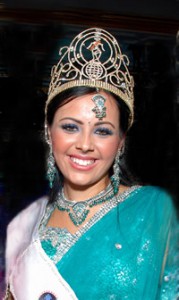 ANKITA GHAZAN
Miss India Worldwide 2011
19 years old ANKITA GHAZAN from Sydney, Australia was judged the 20th Miss India Worldwide 2011
The Top 5 – UAE , USA , Australia , Trinidad & South Africa
The Top 10 – Australia. UK, USA, India, Kenya, Trinidad & Tobago, Suriname, South Africa, Malaysia and UAE
26 girls began a quest to be crowned the Miss India Worldwide for 2011. The girls, each national representative of their respective countries had 5 days of a full on schedule which included official engagements, cocktails, public appearances, brief tour of Dubai attractions which included a Safari. Camel back rides, being driven around sea of sand and getting entertained to the Middle Eastern food and entertainment.
Apart from these, the girls also had to dedicate time to training, wardrobe and fine tuning their stage presence. The combination of these schedules meant the girls understood what sort of a commitment would be required of them in the future if this was to be their career.
A sponsor engagement and public appearance for the contestants was organised and the event also tried to incorporate the commercial aspect of the event. For the much anticipating crowd waiting to meet and greet the girls, they were given a chance to shake off all jitters of the talent night. Talent night was interesting as the diversity of the girls background overpowered the night with dazzle and glamour. From martial arts to classical dances to melodious tunes extravaganza.
From the Talent night in Dubai the focus shifted to the main event being held in Abu Dhabi and what a cleverly orchestrated night by the event organisers who kept everything running smoothly and eventuated with the crowning of Miss India Worldwide.
Miss Australia was stunned as her name was announced as the winner and a very emotional and surprised Ankita Cheryl Ghazan was overwhelmed with emotions. Miss USA – Natasha Arora was crowned the First Runner Up and she looked stunning with her outfit and was always a crowd pleaser with the public engagements of the pageant. Miss Trinidad – Anuradha Maharaj was crowned as Second Runner Up – she had also been an eye catcher during the talent night with vibrant colours aptly matching her personality.
All in all the 20th Edition of the Miss India Worldwide 2011 ended on a very successful note with the event heading to Suriname next year.