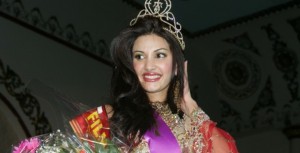 FAREISA JOEMMANBAKS
Filmy Miss India Worldwide 2007
In a glamorous and glittering function , Fareisa Joemmanbaks of Suriname was crowned Filmy Miss India Worldwide 2007 held in Fords, New Jersey, on April 8, 2007. Fareisa won the coveted title beating 18 other beautiful contestants representing as many countries and yet taking pride in their country of origin, India.
Fareisa, 23, is a tourist professional from the Republic of Suriname and her hobbies include listening to music, dancing specially salsa and belly dance and traveling. This is for the first time in its sixteen year history that an Indo-Caribbean got the crown. She received prizes totaling over $15,000, including cash prize of $5,000 cash, an all-expense paid trip to South Africa, Trinidad, Australia, Netherlands and USA among other prizes. Fareisa was crowned by Trina Chakravarty of USA. the outgoing Miss India Worldwide.
Nadia Vorajee of South Africa and Sapna Sehravat of Canada were named first and second runners-up respectively, spreading this year's pageant award across three continents. The other two finalists were Snehali Naik of United Kingdom and Movina Nagarajan representing India. Sapna Sehravat also bagged the Best Talent award for her superb piano performance which included a fusion dance of Bharat Natyam and movie song. The other sub contest winners were Jaishree Manuferan of Singapore for Miss Beautiful Smile, Sabrina Bou Ali of Morocco for Miss Beautiful Eyes, Reneetha Veeraya of the Malaysia for Miss Beautiful Hair, Priya Singh of Fiji for Miss Beautiful Skin and Nadia Virajee of South Africa for Miss Photogenic and Miss Congeniality. Participants came from nineteen countries across the globe.
In the Indian and Evening Gown segment that followed, each contestant presented her best, after which top ten contestants were selected. These ten contestants later displayed their talent in the form of film-based dance, classical dances, acting, singing, poetry, and piano and sitar recital.
Hosted emceed by Shweta Kawaatra, TV anchor and actor, along with Pooja Kumar, a former Miss India USA and actress. In addition to the brilliant performances by children and youth from three popular school of dances, Kalanjali, Arya and Creations Dance Academy, the audience were treated to a live fashion show by Feroze with top American models.
The international panel of judges included judges from different countries. Tabulation was done by Dharmangi Bhatia, CPA. Pageant was choreographed by Shekhar Rahate and Sonalee Vyas.
"The pageant was altogether a great experience. All other contestants were very well prepared which made the competition very rewarding as well as challenging," said Sunita Vaz, contestant from France.
Dharmatma Saran, Founder of the Miss India Worldwide, thanked the sponsors and presented an appreciation plaque to Sudhir Vaishnav, CEO Filmy Television, Anil K. Mathur, Regional Director – Air-India, Shobhna Patel of Royal Albert's Palace among others.
The longest running international Indian pageant with affiliates in over twenty countries, the IFC is a pioneer organization in conducting Indian pageants and fashion shows in the USA and worldwide. The committee has also been conducting the Miss India New York and the Miss India USA pageants annually since 1980. Acclaimed as ' the most glamorous Indian function in the world', outside of India, the pageant has served as a platform for unifying the people of Indian origin scattered around the globe to come together and celebrate their rich heritage and oneness as part of the larger Indian Diaspora. "We will continue to promote Indian values and performing arts", said Dharmatma Saran, Chairman & Founder, "among the Indian youth around the world through pageantry."