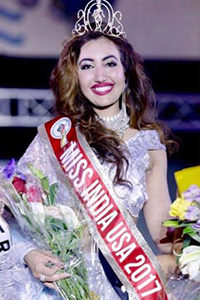 SHREE SAINI
Miss India USA 2017
SHREE SAINI CROWNED MISS INDIA USA 2017!
Shree Saini, a Washington state resident, was crowned Miss India USA 2017. From among a total of 52 contestants, she was also voted Miss Congeniality by her fellow contestants.
Shree was also awarded: *The Best Talent in the Show Award*, *The People's Choice Award*, and *The Top Interview in the Show* at Miss India Washington
The 21-year-old, who is a student at the University of Washington, said she wants to lead a life dedicated to service. Shree, who had a pacemaker implanted at the age of 12 and was told that she would never be able dance, is an inspiration for all. A victim of bullying in high school, she has been campaigning against the oppressive behaviour.
"I believe in working together to create a whole that is greater than the sum of its parts," Shree said, whose parents migrated to the US from Punjab. She said she wants to eliminate human trafficking and work towards promoting the importance of emotional well-being in society.
Shree has founded a non-profit organization (www.shreesaini.com) to increase awareness and raise funds to help prevent nonverbal harassment and human trafficking. The Fund has raised more than $156,000 to help combat human trafficking. Other efforts include presentations to local businesses and the Microsoft Corporation, several different sales, and relay for life events. She prepared daily small newspaper articles for publication in the local paper, Columbia Basin Herald, to highlight strategies for addressing various kinds of bullying. Spoke over one hundred times via presentations and vocal media at different organizations and school presentations to raise awareness. Shree has been recognized for advocacy efforts on the cover of VENUE magazine (Grant County's #1 magazine via readership) and by being invited to speak with Washington State Superintendent of Public Instruction about initiatives to end nonverbal harassment in schools.
For more information, visit www.shreesaini.com.