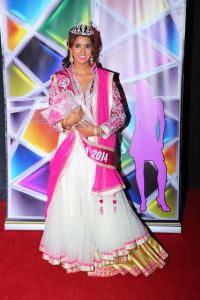 PRANATHY GANGARAJU
Miss India USA 2014
PRANATHY GANGARAJU CROWNED MISS INDIA USA 2014!
Pranathy, 19, is a student majoring in Film Acting and Production. Her hobbies include dancing, singing, writing and swimming. She was crowned by outgoing queen Monica Gill. Pranathy will represent USA in the Twenty Fourth Annual Miss India Worldwide Pageant, also organized by IFC, to be held in Goa, India the summer of 2015.
Monica Shah, 24, of Florida and Angela Nand, 27, of Hawaii, were respectively declared first and second runners up among 21 contestants from various parts of the country, in the gala event attended by over five hundred people. The other two five finalists were Nisha Kamaldani from New Jersey and Shivali Marwaha from Virginia.
The pageant started with a stunning performance by all the contestants led by the outgoing queen Monica Gill choreographed by Shilpa Jhurani. All contestants presented their best in the Indian and the Evening Gown segment after which the top ten were selected. The top ten contestants from Miss section then amazed the audience with their talent which included Bollywood dances, Indian classical dances, singing and karate. In the Miss section Amritha Mangalat from New Hampshire was awarded Miss Talented. Winners of the other various sub-contests were Aamy Kuldip of Illinois – Miss Photogenic, Nandini Raani Iyer of New York – Miss Beautiful Eyes, Rupinder Raj of New York – Miss Beautiful Skin, Nisha Kamaldani of New Jersey – Miss Beautiful Hair, Angela Nand of Hawaii – Miss Congeniality, Pranathy Gangaraju from Georgia – Miss Beautiful
Smile, Monica Shah of Florida – Miss Bollywood Diva, Angela Nand of Hawaii – Miss Catwalk, Nandini Raani Iyer – Miss Facebook and Angela Suresh of Washington State – Miss Popularity.
Dharmatma Saran, Chairman & Founder, presented an appreciation plaque to Mr. H. R. Shah, Mr. Albert Jasani, Mr. Satya Shaw, Ms Nishi Bahl and Shilpa Jhurani for their support in organizing this year pageant. "I am very thankful to the Indian community for its support through the years," said Dharmatma Saran, "and especially thankful to H.R. Shah and Albert Jasani for supporting the pageant." Ruchika Arora, state director of the New England Area won State Director of The Year award and was also presented a plaque.
Stacy Issac – Miss India USA 2001 and Roshi George – Miss FOKANA were emcees for the function and Nishi Bahl was the choreographer.
The panel of judges included Dr. Ravi Jhagirdar – President of AAPI, Satya Shaw a cultural activist from Florida, Dr. Binod Sinha – a medical doctor from Edison, Susmita Patel – celebrity make up artist and Ines Hernandez a fashion designer from Dominican Republic. The crowning was followed by a lavish dinner and dance.
Photo courtesy of Suresh Jilla