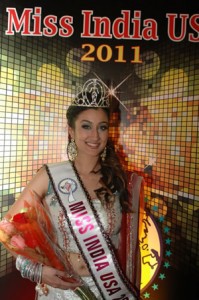 CHANDAN KAUR
Miss India USA 2011
CHANDAN KAUR CROWNED MISS INDIA USA 2011
New York gets Miss India USA crown after 27 years!
In a glittering function organized on November 20 at the Royal Albert's Palace , Fords, New Jersey, Chandan Kaur of New York was crowned Miss India USA 2011. Miss India USA is the oldest running Indian pageant outside of India. The thirtieth annual pageant was organized by the New York-based IFC, headed by Dharmatma Saran, Founder and the Chief Organizer of the Pageant, in association with Royal Albert's Palace. Dr. Shashi Agarwal was the Presenter of the pageant. The pageant was dedicated to the memory of Bollywood legend, late Shammi Kapoor.
Chandan, 23, holds Bachelor's in Business Administration and is pursuing masters in the same field. Her hobbies include painting, traveling, sports, and cooking. She was crowned by outgoing queen Natasha Arora. Richa will represent USA in the Twenty First Annual Miss India Worldwide Pageant, also organized by IFC, to be held on February 25, 2012, in Paramaribo, Suriname. After twenty seven years, a contestant from New York has won the Miss India USA title.
Aasieya Husain, 19, of Washington D.C. and Sonam Sharma, 21 of Maryland, were respectively declared first and second runners up among 19 contestants from various parts of the country, in the gala event attended by over six hundred people. The other five finalists were Jasmine Sethi of New Jersey and Shiksha Sharma of California.
The pageant started with a stunning performance by all the contestants led by the outgoing queen Natasha Arora. They performed to a compilation of Shammi Kapoor hits. All contestants presented their best in the Indian and the Evening Gown segment after which the top ten were selected. The top ten contestants then amazed the audience with their talent which included Bollywood dances, Indian classical dances, singing and gymnastics. Sanjan Shukla of California was awarded Miss Talented for Jazz performance. Winners of the other various sub-contests were Aasieya Husain of Washington D.C. – Miss Photogenic, Krithika Rajkumar of Michigan– Miss Beautiful Eyes, Monica Vaswani of Florida – Miss Beautiful Skin, Shiksha Sharma of California – Miss Beautiful Hair, Sonal Patel of Arkansas – Miss Congeniality, Roshni Surtani of Virgin Islands – Miss Beautiful Smile, Anu Singh of California – Miss Bollywood Diva, and Jasmine Sethi of New Jersey – Miss Beautiful Face.
Dharmatma Saran presented an appreciation plaque to Mr. Raymond Fredericks, President and CEO of JFK Hospital for partnering in raising funds for Dr. G.N. Roy Cancer Fund, Dr. Shashi Agarwal – Presenter of the pageant, Albert Jasani of Royal Albert's Palace, Nishi Bahl for choreography and Shilpa Jhurani for opening dance choreography and entertainment. "I am very thankful to the Indian community for its support through the years," said Dharmatma Saran, "and especially thankful to Dr. Shashi Agarwal and Albert Jasani for supporting the pageant."
Stacy Issac – Miss India USA 2001 and Priyanka Singha – Miss India USA 2010 were emcees for the function. Entertainment was provided by Arya Dance Academy, Divya Jain Group, Shilpa Jhurani, Vicky Kohli and Sooraj Malhotra.
The panel of judges included Dr. Sunita Kanumury – President of AAPI, Ganga Mukkavilli CPA, Marian Brock – Hollywood Actress, Susmita Patel – Celebrity Make-up Artist and Dr. Gopal Narasimhan. Dina Patel was the official CPA for the Pageant.