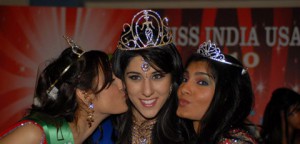 NATASHA ARORA
Miss India USA 2010
Natasha Arora being congratulated by Shreya Sood, Second Runner-Up and Rafeiya Hussain, First Runner-Up.
In a glittering function organized on December 12th at the Royal Albert's Palace , Fords, New Jersey, Natasha Arora of Texas was crowned Miss India USA 2010. Miss India USA is the longest running Indian pageant outside of India. The twenty-ninth annual pageant was organized by the New York-based IFC, headed by Dharmatma Saran, Founder and the Chief Organizer of the Pageant, in association with Royal Albert's Palace.
Natasha, 19, studies at The University of Texas with plans to attend law school. She enjoys debate and is part of Model United Nations. Her other hobbies include dancing and spending time with her grandmother. Natasha also won the title of Miss Beautiful Skin and Best Talent. She was crowned by outgoing queen Priyanka Singha. Natasha will represent USA in the Twentieth Miss India Worldwide pageant to be held on April 6, 2011 in Dubai.
Rafeiya Hussain, 18, of Virginia and Shreya Sood, 27, of Connecticut were respectively declared first and second runners up among contestants from various parts of the country, in the gala event attended by over six hundred people. The other five finalists were Chandan Kaur of New York and Sophia Andrade of California.
The pageant started with a stunning performance by all the contestants led by Priyanka Singha to the song "Dhola Re" from the movie Devdas. All contestants presented their best in the Indian and the Evening Gown segment after which the top ten were selected. The top ten contestants then amazed the audience with their talent which included Bollywood dances, Bharat Natyam, violin as well as tap dancing and a prose. Winners of the various sub-contests were Poonam Desai of Michigan – Miss Popularity, Chandan Kaur of New York – Miss Beautiful Eyes, Sabrina Bachai of New York – Miss Beautiful Smile, Nirali Kapoor of New Jersey – Miss Beautiful Hair, Rafeiya Hussain of Virginia – Miss Photogenic, Shreya Sood of Connecticut – Miss Congeniality.
IFC partnered with JFK Medical Center, Edison to raise funds for Dr. G.N. Roy Cancer Fund. Dharmatma Saran invited ambassador Prabhu Dayal, Counsel General of Indian to present an appreciation plaque and check of $10,000 to John Nolan Jr., President of JFK center. Appreciation plaques were also presented to Albert Jasani of Royal Albert's Palace, Rupal Patel of Arya Dance Academy, Susmita Patel – Beautician, Nishi Bahl, Shilpa Jhurani and Suresh Jilla for their enthusiastic support and accopmlishments.
"I am very thankful to the Indian community for its support through the years," said Dharmatma Saran. "I am also very happy that IFC and JFK Medical Center were able to raise funds for the G.N. Roy center" added Mr. Saran. IFC has a long history of raising funds for various causes.
Nikkitasha Marwaha – Miss India Worldwide 2009 and Dance India Dance finalist along with Trina Chakravarty – Miss India Worldwide 2006 were emcees for the function. Entertainment was provided by Sunaina Jagroep – Miss India Suriname 2010, Arya Dance Academy, Divya Jain Group, Vicky Kohli, Anuradha Maharaj, Neha Multani, Niharica Raizada, Tina Kaur, Suraj and Shilpa Jhurani.
The panel of judges included Susmita Patel – Celebrity Make-up Artist, Anil Doebe – National Director for Miss India Suriname, Divya Jain – Founder of Creations Dance Academy, Chandni Dayal – A painter & artist and Shailja Gupta – Movie Producer. Dhina Patel & Rajat Bharti were the official CPAs for the pageant. The choreography was done by Nishi Bahl and Shilpa Jhurani.