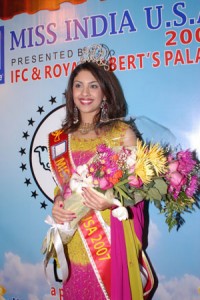 RICHA GANGOPADHYAY
Miss India USA 2007
In a glittering function organized on December 28th at the Royal Alberts Palace , Fords, New Jersey, Richa Gangopadhyay of Michigan was crowned Nationwide Miss India USA 2007. Miss India USA is the longest running Indian pageant outside of India. The twenty-sixth annual pageant was organized by the New York-based IFC, headed by Dharmatma Saran, Founder and the Chief Organizer of the Pageant, in association with Royal Alberts Palace. Nationwide, the financial services firm, was the title sponsor of the pageant.
Richa, 21, is in her final year at the Michigan State University majoring in Dietetics and Nutrition and enjoys dance, music, movies and teaching children about health and nutrition. Richa also won the title of Miss Photogenic. She was crowned by outgoing queen Ayushka Singh. Richa will represent USA in the Seventeenth Annual Miss India Worldwide Pageant, also organized by IFC, to be held on February 23, 2008, in Johannesburg, South Africa.
Neha Multani, 22, of New York and Nisha Palvia, 18, of Georgia were respectively declared first and second runners up among 24 contestants from various parts of the country, in the gala event attended by over six hundred people. The other five finalists were Mohar Chaudhury of Texas and Sarika Shah of New Jersey.
The pageant started with a stunning performance by all the contestants led by Ayushka Singh. All contestants presented their best in the Indian and the Evening Gown segment after which the top ten were selected. The top ten contestants then amazed the audience with their talent which included Bollywood dances, Kathak, Bharat Natyam, violin as well as poetry recitation and singing. Winners of the various sub-contests were Priyanca Mody of Delaware Miss Beautiful Smile, Madhu Punjabi of California Miss Beautiful Eyes and Miss Congeniality, Neha Multani of New York Miss Beautiful Skin, Nisha Palvia of Georgia Miss Beautiful Hair, and Mohar Chaudhury of Texas Best Talent.
Dharmatma Saran presented an appreciation plaque to Tariq Khan of Nationwide, Albert Jasani of Royal Alberts Palace, Shekhar Rahate and Sonalee Vyas for their enthusiastic support in organizing the function. I am very thankful to the Indian community for its support through the years, said Dharmatma Saran, and especially thankful to Tariq Khan of Nationwide for supporting the pageant as title sponsor. We are very happy to be part of this pageant, since it promotes Indian culture and values, said Tariq Khan of Nationwide, and would love to continue our title sponsorship for the coming years.
Stacy Issac Miss India USA 2001 and Bhavna Toor Miss India New York 2001 were emcees for the function. Entertainment was provided by Arya Dance Academy, Divya Jain Group, Bohemia The Punjabi Rapper, Singers Janice Miller & Chirag Trivedi and Best Talent of last Miss India Worldwide – Sapna Sehravat of Canada. Another highlight of the evening was a dazzling fashion show by Shekhar Rahate.
The panel of judges included Dr. Hemant Patel President of AAPI, Tariq Khan – Vice President of Marketing & Diversity at Nationwide, Praveen Kumar – Counsel Political & Community Affairs at the Indian Consulate, Sudha Shekhar Choreographer and classical dance exponent, Dr. Lorenzo Ottaviano patron of Indian performing arts and Janice Miller – internationally acclaimed singer. Ganga Mukkavilli was the official CPA for the Pageant assisted by Divya Mathur and Kiran Hari. The choreography was done by Shekhar Rahate and Sonalee Vyas.