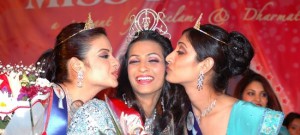 AYUSHKA SINGH
Miss India USA 2006
In a glittering function organized on December 24 at the Royal Albert's Palace , Fords, New Jersey, Ayushka Singh of Las Vegas, Nevada was crowned Miss India USA 2006 . Miss India USA is the longest running Indian pageant outside of India and celebrated its silver anniversary this year. The twenty fifth annual pageant was organized by the New York-based IFC, headed by Dharmatma Saran , Founder and the Chief Organizer of the Pageant, in association with Royal Albert's Palace.
Ayushka, 19, is a second year student who enjoys reading adventurous novels and dancing to ethnic tunes. Upon graduation, Ayushka plans on pursuing a career in pharmacy. Ayushka also won the title of Miss Beautiful Smile as well as Best Talent where she played the dhol and danced to the music of Bombay Dreams. She was crowned by outgoing queen and current Miss India Worldwide, Trina Chakravarty. Ayushka will represent USA in the Sixteenth Annual Miss India Worldwide Pageant to be held in March of 2007.
Nisha Mirchandani, 25 of New York and Ankita Baxi of Illinois were respectively declared first and second runner up among 26 contestants from various parts of the country, in the gala event attended by over six hundred people. The other five finalists were Shilpa Mamidi of California and Richa Gangopadhyay of Michigan.
The pageant started with a stunning performance by all the contestants led by Trina. All contestants presented their best in the Indian and the Evening Gown segment after which the top ten were selected. The top ten contestants then amazed the audience with their talent which included Bollywood dances, Kathak, Bharat Natyam as well as poetry recitation and classical singing. Winners of the various sub-contests were Hardeep Chahil of Michigan – Miss Photogenic, Soni Kumar of Missouri – Miss Beautiful Eyes, Richa Gangopadhyay of Michigan – Miss Congeniality and Farah Majid of Florida – Miss Popularity.
Dharmatma Saran presented appreciation plaque to Albert Jasani of Royal Albert's Palace, Sudhir Vaishnav of Sahara One and Jayesh Mehta of Aum Events for their support in organizing the event. The other major sponsors of the event were Air India, Maaza Beverages and American Airlines.
Ganga Mukkavilli and Bhavna Toor were emcees for the function. Entertainment was provided by Satrangi School of Dance, Divya Jain Group and child prodigy Foram Parmar. The panel of judges included Dr. Neena Malhotra – Counsel Culture from the Indian Consulate, Dr. Shashi Agarwal – Cardiologist, Toral Mehta from the hit show Apprentice, Farook Khan – National Director Miss India South Africa and Hordy Cheng — Supermodel. Former Miss India New York, Mrs. Dharmangi Bhatia was the official CPA for the Pageant. Sushmita Patel was the beautician of the event and the choreography was done by Shekhar Rahate and Sonalee Vyas.