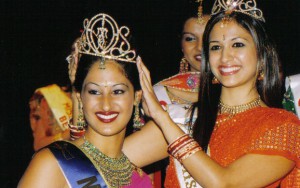 TRINA CHAKRAVARTY
Miss India USA 2005
In a dazzling function organized on August 20 at the prestigious Sun Dome , Tampa, Florida, Trina Chakravarty of Jacksonville, Florida, was crowned Miss India USA 2005. The twenty fourth annual function was organized by the New York-based India Festival Committee, headed by Dharmatma Saran, Founder and the Chief Organizer of the Pageant, in association with F.I.A. of Florida, Swapna Shah, Satya Shaw, and Chandrakant Patel.
Trina, 18, is a second year student at University of Florida . Her hobbies include Indian classical dancing and she plans to become a surgeon to help accident victims. Trina is fluent in three languages – English, French and Bengali. Trina was crowned by the outgoing queen, Reshoo Pande. "Incidentally, Trina's mother Aparna, was Miss India New York in 1982," said Dharmatma Saran, Chairman, IFC, which has been organizing the pageant since 1980. Saran further stated, "for the first time in twenty five years history of the pageant in the USA , a mother-daughter duo has bagged the crown either at the state or national level." Trina will now represent USA in the Fifteenth Annual Miss India Worldwide pageant to be held in Mumbai , India , on December 3. Miss India USA is the oldest Indian pageant outside India .
Nisha Mirchandani, 24, and Tashi Sharma, 22, both from New York were respectively declared first and second runner up among 33 contestants from various parts of the country, in the gala event attended by over three thousand people. The other five finalists were Seema Srivastava of Ohio and Khyati Gupta of Mississippi .
All contestants presented their best in the Indian and the Evening Gown segment after which the top ten were selected. The top ten contestants then enthralled the audience with their talent which included movie dances, Kathak, Bharat Natyam as well as speech, skit and singing. Winners of the various sub-contests were Kavita Kumar of Pennsylvania – Miss Beautiful Smile, Chandani Desai of Florida – Miss Photogenic, Reemal Prasad of California – Miss Beautiful Hair, Seema Srivastava of Ohio – Miss Beautiful Eyes, Shruti Challa of Kansas – Miss Congeniality and Nikita Goel of North Carolina got the Best Talent Award.
One highlight of the pageant was a bollywood dance performance by the movie actress Preeti Jhangiani, who specially flew in from India for the event. Dharmatma Saran presented appreciation plaque to Satya Shaw, Chandrakant Patel and Swapna Shah for their support in organizing the event. Dr. Kiran Patel was also honored as "philanthropist of the year" on this occasion.
Ganga Mukkavilli, Purva Merchant and Stacy Issac were emcees for the function. Entertainment was provided by Silentz Killer from Georgia , Miami Mast from Florida and Ravi Jakhotia. The panel of judges included Air India Regional Director Promod Gupta, Anjana Trivedi – Fashion designer from India , Dr. Pallavi Patel – Pediatrician and Philanthropist, Renu Khatour – Provost University of South Florida, Dr. Shashi Agarwal – Cardiologist and Dr. Amit Charavorty from Alabama . Former Miss India New York , Mrs. Dharmangi Bhatia was the official CPA for the Pageant. Choreography was done by Divya Kumar and Tricia Bhim.
"I am very happy with the tremendous response for the pageant," said Satya Shaw, The Event Chairperson, and "hope to bring it back to Tampa soon." Swapna Shah, Chairperson of the host committee proposed the vote of thanks.