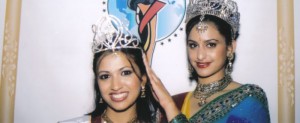 RESHOO PANDE
Miss India USA 2004
In a dazzling function organized on October 2 at Wilkins Theatre in New Jersey, Reshoo Pande of Jackson, Mississippi was crowned Miss India USA 2004. The twenty-third annual function was organized by the New York-based India Festival Committee, headed by Dharmatma Saran, Founder and the Chief Organizer of the Pageant, in association with Bharat Matrimony.com, Air-India and Maaza Beverages. Reshoo, 21 , is a senior at Millsaps College in Jackson, Mississippi. Her hobbies include dancing, singing, reading John Grisham books and watching "Law and Order." She plans to be a certified accountant and become a tax attorney.
Reshoo and Diva Ranade (New Jersey) tied for the title of winner after the Question & Answer segment. Both finalists then verbally answered a tie-breaking question, the tabulation of which led Reshoo to be crowned the winner and Diva Ranade First Runner-Up. The other five finalists included Subrina Dhammi of New York (Second Runner-Up), Juhi Shukla of Virginia, and Sonia Seernani of Georgia.
Twenty-Two contestants led by the outgoing queen, Meghna Nagarajan entered the stage with thunderous applause by a packed audience of over five hundred people. All contestants presented their best in the Indian and the Evening Gown segment after which the top ten were selected. The top ten contestants then enthralled the audience with their talent which included movie dances, Kathak, Bharat Natyam as well as a highly unusual and creative performance from Julie Kathoria of North Carolina, who wowed the audience by performing a duet simultaneously wearing a female costume of a lehenga from the front and a male costume and mask from the back. Julie went on to bag the subcontest title of Best Talent with her performance. She also won Miss Beautiful Smile. Other winners of the various sub-contests were Juhi Shukla of Virginia – Miss Popular Choice as voted on Bharat Matrimony.com; Sumehra Premji of Georgia – Miss Beautiful Eyes; Diva Ranade of New York – Miss Popularity judged by the number of ads purchased in her name and Shweta Patel of New York – Miss Congeniality. Diva Ranade also got the title of Miss Beautiful Hair and Miss Photogenic title went to the winner Reshoo Pande.
One highlight of the pageant was a fashion extravaganza choreographed and featuring the clothing designed by well-known fashion designer Feroze Alam on live music and with top American models.
Former Queens Sharan Gill (Miss India USA 1999) and Stacy Issac (Miss India USA 2001) hosted the event with much verve.
Entertainments were provided by Sonalee Vyas and her dance group Naach Sensation; Rupal Patel's dance group Arya Dance Academy; Rohit Baxi's dance group Satrangi; Meghna lathigara of Sakhiyan and Sudha Shekhar's Kalaanjali school of dance. In addition, "Sa Re Ga Ma Pa" winner Saurabh Jain serenaded the top five contestants after the Q&A round with the song "Maine jisse abhi abhi dekha hai" from the movie "Kal Ho Naa Ho."
The panel of judges included Air India Regional Director Seema Andhare; Kamal Dandona of Bollywood Movie Awards; National Director and prominent journalist Farook Khan from South Africa; Miss India Worldwide Purva Merchant from India; Piyush Pandya – Producer and Director of movie American Desi; President of the Miss Asia Universe Pageant Anna Ling and former Miss Chinese New York Jessie Liu;
Former Miss India New York, Mrs. Dharmangi Bhatia of Bear Stearns was the official CPA for the Pageant. Dharmatma Saran Chairman and Founder of the pageant presented appreciation plaques to the title sponsor – J. Murugavel of BharatMatrimony.com, and Grand Sponsors – Air-India, Maaza and Albert Jesani of Royal Albert Palace. Hari Srinivas, Country Head of B4U hosting a search for two Veejays through this pageant..
Reshoo Pande will represent the USA in the fourteenth annual Miss India Worldwide Pageant to be held in Mumbai, India in January of 2005 to be held in conjunction with Pravasi Bhartiya Divas.