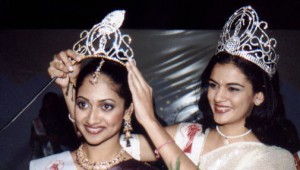 STACY ISAAC
Miss India USA 2001
In a glittering function organized by the New York based India Festival Committee, Stacy Isaac of Florida was crowned Miss India USA 2001. The pageant was presented in co-operation with Air­India, TV Asia and Maaza Beverages. The pageant in its twentieth year, was held at the Union County Arts Center, Rahway in New Jersey. Stacy, 19, is in her second year at Florida Atlantic University and wants to pursue a career in pediatrics as she " simply adores working with children and truly admire the sincerity and purity of their hearts." Stacy also bagged the Sulekha.com "Miss Photogenic" online contest and "Best Talent" contest where she performed a dance number entitled Rhythm of Life choreographed in Bharat Natyam style.
As Miss India USA, Stacy won prizes over 55000 which includes a round-trip ticket to India on Air­India, 51000 cash and various other prizes. She will also represent USA in the Eleventh Miss India Worldwide Pageant to be held in San Jose, California, on March 9, 2002. She will also work as Ambassador for higher education for women through Helena Kaushik Women's College in India. Uzma Enayatulla (Virginia) was declared the First Runner-Up and Pareeta Mehta (Georgia) Second Runner-Up. The other two finalists were Payal Patel (Arizona) and Priya Chokshi (Texas). Amrita Shergill (New York) got "Miss Beautiful Eyes" and Jigna Chitalia of New Hampshire got "Miss Beautiful Smile" while Anahita Dua of Wisconsin bagged "Miss Congeniality" award.
A record number of 32 contestants from 26 states traveled to participate in this year pageant. "I made more friends this weekend than in my entire life" exclaimed Anahita Dna winner of miss Congeniality award. The contest commenced with the 32 beauties in a dazzling opening dance number led by Teena Sookhramwala and Ritu Upadhyay, the outgoing Miss India USA was welcomed by a thunderous applause of over one thousand strong audience. Ritu also shared her exl)erience as Miss India USA, which included meeting with various celebrities, interview at the prestigious Movers and Shakers by Shekhar Suman and her traveling around the world including two trips each to South Africa and India.
In the evening and Evening Gown segment that followed, each contestant presented her best, after which top ten contestants were selected. These ten contestants later displayed their talent in the form of filni-based dance, classical dances, acting, singing and poetry recital. The panel of Judges included Usha Mathur (a cultural activist and wife of Yogesh Mathur, Regional Director of Air-India), April Thibcault – Miss Massachusetts, Anjana Trivedi – Fashion Designer, Suneil Anand (Actor/Producer and son of Dev Anand), Satya Shaw from Tennessey and Dr. Surendra Kaushik – Professor at Pace University. Ganga Mukkavilii and Associates CPA did the tabulation.
One of the highlights of the pageant was a fashion extravaganza presented by upcoming fashion designer, Feroze. Sudha Shekhar group, Sonalee Vyas and Arya International presented other entertainment items for the evening. Another highlight of this year pageant was Miss Photogenic contest online sponsored by Sulekha.com where over 1500 visitors voted for the contest online and selected the winner.
"The pageant was altogether a great experience. All other contestants were very well PrePared which made the competition very rewarding as well as challenging," said Payal Patel who represented the State of Arizona.
Dharmatma Saran, Chairman and Founder of the India Festival Committee thanked the sponsors and presented appreciation plaque to Yogesh Mathur, Regional Director of Air-India and HR. Shah – CEO of TV Asia. "I am overwhelmed with the support we have received from the community as always" said Saran, "which enables us to promote Indian values and performing arts among the Indian youth in America."
Pooja Kumar, MTV Veejay and former Miss India USA, Kulraj Anand a radio broadcaster and Anil Srivatsa – a TV personality emceed the event.